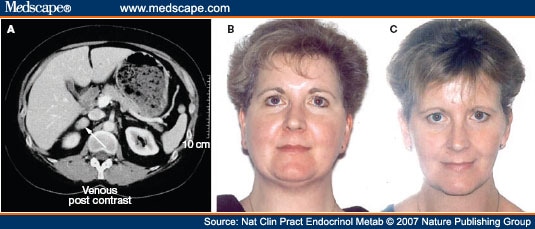 Cushing's Syndrome in Women With Polycystic Ovaries and Hyperandrogenism
continues the theme of how to distinguish between PCOS and Cushing's. Above is a picture of a woman who was diagnosed as having PCOS. 7 years later, she was re-tested and found to have Cushing's Syndrome instead.
Cushing's patients are frequently misdiagnosed with PCOS. It is an easy diagnosis (in layman's terms) and avoids the multiple tests and confusion which suspicion of Cushing's seems to bring. This article talks about the aforementioned case and 3 others where Cushing's was misdiagnosed as PCOS. Once treated for the Cushing's, all symptoms which had been attributed to PCOS resolved.
The authors make the case for "the diagnosis of PCOS only when other etiologies have been excluded." They also contend " economic pressures drive health care to be delivered within fewer consultation sessions outside of specialist centers [making it] pertinent to emphasize that not all cases of hyperandrogenism or ovarian cysts are related to PCOS and that curable causes, such as Cushing's syndrome, must be excluded by careful history taking, examination and (potentially repeated) investigation."
And, as a sidenote, the authors mention screening patients who have type 2 diabetes. According to them, "Recent data obtained by screening individuals with type 2 diabetes suggest that cortisol excess, widely considered a rare endocrinopathy in the form of classical Cushing's syndrome, is in fact more common than supposed. "