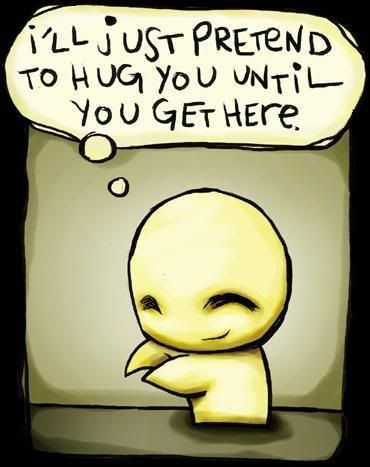 ....the support of my friends. You know who you are.
When we get sick, and I mean that as in chronic illness, it's much like divorce. You find out who your real friends are. With both circumstances, you find that there are some who treat you like you have the plague. Nope, not really friends but you thought they were. Then there are those few who are there through thick and thin. Uh...In my case, mostly thick.
Anyhow, I have found that a support system of some sorts always helps with the flopping around that goes on without it. You know what I mean. Floundering. Meandering. Going places where one doesn't need to or mean to go. I found that in the support group at cushings-help.com. But I didn't just find support. I found friends. Real friends. Friends who tell you what they really think. You know what I mean? "Robin, you have spinach in your teeth and you need a breath mint!" Those kind of friends.
I swear, I don't know what I'd do without this support group and the friends I've made through it. They have/had/may have Cushing's or related endocrine illnesses. I don't have to explain what I mean when I say, "I think I'm in AI." THey know what I mean when I say, "IPSS, ACTH, TSH, T3, T4, FSH, LH, BLA, GH, GHRH, anti-TPO, etc...etc..etc..." And none of us have medical degrees. How 'bout that? Ok, Bug has one for critters. She should have one for human critters.
How many people do you know that you can CC on an email in the middle of the night with a question about a medicine and get 5 CC'd replies back? Almost immediately? And if you don't get a couple then, you'll get 'em a few hours later. With tons of info and worlds of advice. Good advice. And sometimes a kick in the shins to go with it. "What do you mean you are going to work with a sinus infection, 100 degree fever, in AI, and dizzy? Get your @#$% you-know-what home!" And if I don't respond, my phone will ring. And ring... and ring..... Until I do. Why? Because I live alone and they care. They worry about me. (Thanks, y'all...you know who you are!)
And if I'm really scared or if I need just to share or need some information, I can post on those life-saving boards. Those I've mentioned a zillion times already. (Thanks, again, MaryO...you know they saved my life.) Someone will be on there to respond. And help. And care. As I will when I see a post like that. We believe in paying it forward 'cause that's what it's all about.
I've met quite a few of these folks in real-life! You betcha. But those I haven't are just as dear to me as those I have. We've shared just about everything but a real hug. And one day, well, we are going to do that beach trip and share those hugs.
Everyone with chronic illness needs folks who understand for support.